Secrets to Selling Your Home Faster
Okay, right now the seller's market is hot, very hot. Homes are only on the market for a few days...if that. So, why should you need to take the extra steps to make sure your home sells fast? Well, the better you present your home, the more you can sell your home for. And it will ensure that buyers will be confident in making offers, happy buyers are easier to deal with down the road should anything arise before closing. These steps won't cost you anything or very little but could result in $1,000 more than what you were expecting. A few thousand dollars? That's a vacation! That's new furniture!
A Picture is Worth a Thousand….Dollars?
According to NAR's 2019 Profile of Home Buyers and Sellers, 44% of the recent buyers started their search online. Of those, 87% found photos very useful in their home search. If your listing photos don't show off the features of your home, prospective buyers may reject it without even taking a tour or going to an open house. This is why the Jane Campbell Team offers our sellers FREE professional photos, we trust our photographers highlight the best aspects of your home. We want the best for our sellers and we will do what it takes to sell your home quickly and for top dollar.

Hide the Dirt
Or better yet, just clean it. Nothing turns off buyers like a dirty or cluttered house. Don't want to deal with it, hire a company to do a deep clean. Buyers can think that you've overlooked essential house upkeep and maintenance if they see your place unkept. Key places to clean and declutter while your home is on the market include:
Kitchen countertops
Inside cabinets and appliances
Floors and room corners where dust collects
Shelves
Bathroom counters, toilets, tubs and showers
Inside closets
Windows, inside and out.
Scuffed walls, baseboards, doors and door trim
Basement and garage.
Replace the air filters too...those are gross!
Depersonalize
Remove all your family photos and memorabilia. You want buyers to see the house as a home for their family, not yours. Remove political and religious items, your children's artwork, and everything from the refrigerator and anything that marks the house as your territory rather than neutral territory. The same goes for any collections such as figurines or dolls, sports memorabilia, or kids' toys that can make a buyer think less about the house and more about you. Be sure to fill in the nail hose where any photos were hanging.

Let in The Light
People love light and bright, and the best way to show off your house is to let the sunshine in. Open all the curtains, blinds and shades, and turn on lights in any dark rooms. If a room is lacking natural light, strategically place a few lamps. And while your house is on the market, open all curtains and turn on lights every time you leave your house for work or errand in case you get word that a buyer would like to tour the space before you get home.
Flexible with Showings
Buyers like to see homes on their schedule, which often means evenings and weekends. Plus, they want to be able to tour a home soon after they find it online, especially in a hot market where there is lots of competition...like now. If your home can be shown with little or no notice, more prospective buyers will see it. If you require 24 hours' notice, they may choose to skip your home altogether. Be ready to leave quickly as well, if you're still cleaning up or hanging around outside when the buyers arrive, it can make it awkward.
The Price is Right
Buyers and their agents have access to more information on comparable homes than ever, and they know what most homes are worth before viewing them. A home that's overpriced in the beginning tends to stay on the market longer, even AFTER the price is cut, because buyers think there must be something wrong with it.
Remove Excess Furniture
Nothing makes a home seem smaller than too much big furniture. Rent a storage container and remove as much as you can. It will immediately make your home seem calmer and larger. This is why the Jane Campbell Team has our certified home stager see your home and make vital suggestions for free. She can help make essential suggestions that will guarantee to sell your home for top dollar. No guessing, it's all a science. She might suggest rearranging your furniture, repainting a room a certain color, how to declutter your space and so much more.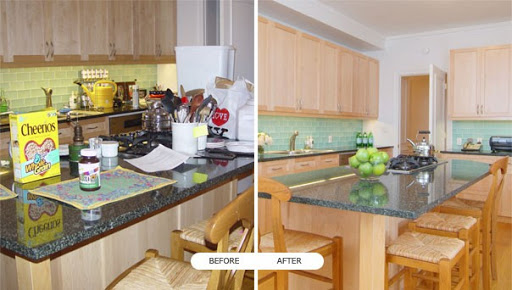 Picking Paint
We know, your teen went through a purple stage and her bathroom and bedroom are a bright purple….ya gotta paint it. You went through the Italian Tuscan phase and everything is golden tan, rusty red, and deep green, you'll definitely need to repaint. Your goal is to create a neutral palette so buyers can envision incorporating their own personal touches in the home. Our professional designer and stager will help you to pick out the right colors.
Curb Appeal
You've heard it more than 100 times and it still rings true, "Curb appeal matters." You really don't get a second chance to make a first impression. Yes, there are folks who have seen an overgrown yard and broken toys laying around and never even gotten out of the car. A new or freshly painted front door and some fresh landscaping or mulch can make a great first impression. Be sure to leave the outdoor lights on too, because prospective buyers may drive by at night.